Hospitality / Coffee & Donuts after 9am Mass
Come for a Hot Meal & Fellowship!
When: After the 9:00 am Mass every Sunday
Where: In the Social Hall
What do we serve?
Scrambled Eggs
Sausage Gravy
Biscuits
Pork Sausage Patty
Coffee, Donuts, Waffles & Juice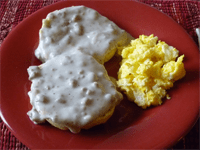 How much does it cost? Our first priority is fellowship; we have been fortunate to be able to keep our prices low. We are also blessed to have a staff who volunteers their time.
(Donations always accepted)
For more information please call: Gisela & Art Klobucar – 322-0882