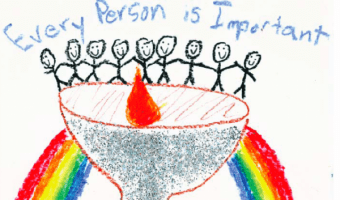 Elementary Formation & Youth Ministry
We are excited about our Elementary and Middle School Formation Schedule and invite all families to participate. This year our Sunday formation program begins with Mass at 9:00am. After Mass all will be invited to the social hall for coffee, donuts and waffles. After a hefty dose of food and fellowship, children and youth will be invited to the school and family center for age appropriate faith formation and activities. For Questions or concerns contact Deacon Stephan Gross at the Parish Office 386-428-6426.
Sacramental Catechesis
Sacramental preparation for the Sacraments of Baptism, Reconciliation, Eucharist and Confirmation are held on an Annual Schedule for all ages. For school age children of the public and parochial schools, these classes meet together and are separate sessions from the parish religious education program or Catholic school religion classes. Please contact the Church Office for more information.
"Creating A Safe Environment"
The policy requires that all youth and adults who have reached the age of 14 and volunteer with children, be cleared in accordance with the diocesan safe environment policy. This includes watching the safe environment video, passing a 13 question safe environment quiz, be fingerprinted and cleared by the FBI. If you wish to volunteer with us in an area that deals with children you must be cleared before you can volunteer. The cost for this service is $50.00 per volunteer. To do this please follow the directions below:
Register and fill out your fingerprint card. Click Here
Read the and follow the instructions in all the steps. When you have finished, print a copy of everything and bring it to the Office of Faith Formation
Create a personal user account and password on the diocesan webpage (must be done to watch the sate environment video and take the quiz). Click Here
Read and follow the instructions, watch the video, take the quiz and print out a copy of the certificate and bring to the Office of Faith Formation. Youth Volunteers: Please do this with your parents.