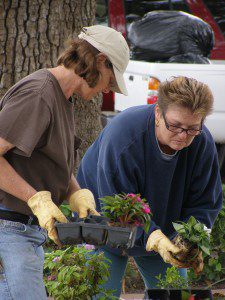 A group of parishioners who volunteer their time and talent by working in the gardens on the grounds of Sacred Heart Parish.
These Gardening Angels work closely with another group of volunteers, the Adopt an Island Ministry. This group is made up of teams, and each team (named after a saint, or saint in the making) is responsible for the beautification and maintenance of an island on the parish property.
"He who works with his hands is a laborer.
He who works with his hands and his head is a craftsman.
He who works with his hands and his head and his heart is an artist."
― St. Francis of Assisi
For more information please call: Catherine Krzeminski – 428-6426