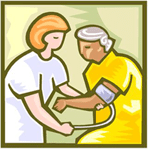 The parish nurse provides health related services by trained volunteers.
The parish nurse also provides Health & Wellness Info, Exercise, Arthritis & Balance Classes, Life Line Screening, CPR Recertification and an Auto Immune Support Group.
Our parish nurse attends health related workshops, and keeps in regular communication with local health officials and local churches.
Please note: The Parish Nurse does not provide hands on nursing care.
"One of the greatest diseases is to be nobody to anybody."
– Blessed Mother Teresa
For addition information, please call our parish nurse: Dianne Barr, 428-6426
                                   "There is a sense in which no doctor ever heals. The doctors themselves would be the first to admit this. The magic is not in the medicine but in the patient's body. What the treatment does is to stimulate natural functions or to remove what hinders them. We speak for convenience of the doctor, or the dressing, healing a cut. But in another sense every cut heals itself: no cut can be healed in a corpse…All who are cured are cured by Him, not merely in the sense that His providence provides them with medical assistance and wholesome environments, but also in the sense that their very tissues are repaired by the far –descending energy which, flowing from Him . . . . energizes the whole system of Nature."     C. S. Lewis