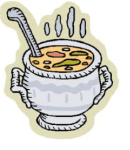 This program serves hot meals to those in need 3 days each week and has been operating in the facilities of First United Methodist Church for over 25 years. Sacred Heart Church is one of 21 churches throughout the community that are involved in this program either by cooking and serving meals once a month or through their monetary contributions.
Every month, members of Cursillo and the Knights of Columbus from Sacred Heart volunteer their time for this program.
Meals are served Mondays, Wednesdays, and Fridays in the church's Hollister Hall from 11:30 AM to 12:45 PM for those in need of a hot meal.
"If you can't feed a hundred people, then feed just one."
– Blessed Mother Teresa
If you are interested please call: Jeanne Gayson – 428-2584.